Cross-Country Skiing
A perfect cross-country skiing net runs right through the Arlberg region
Fans of cross country skiing will find a number of cross country skiing trails and special tracks for this skating technique. Discover the beauties of Tyrolean nature during your winter holidays at the Hotel Gridlon on cross country skis.

Award-winning cross country skiing region
A network of 40 kilometres of cross country skiing trails will ensure you have a cross country skiing experience that is in a class of its own. The Land of Tyrol awarded the approximately 40 kilometre-long network of trails with the cross-country skiing seal of approval. The cross country skiing aficionado will profit greatly from this quality check - the advantages are a high degree of snow reliability, good signposting of the routes, the number and length of the trails with varying degrees of difficulty and parking facilities for day visitors.

A good tipp - the night run in Pettneu
Every Monday and Friday right before sundown until 8.30 pm. A clear winter sky, perfect snow and the peace and quiet of a winter's night - maybe you will meet a few other enthusiasts such as yourself.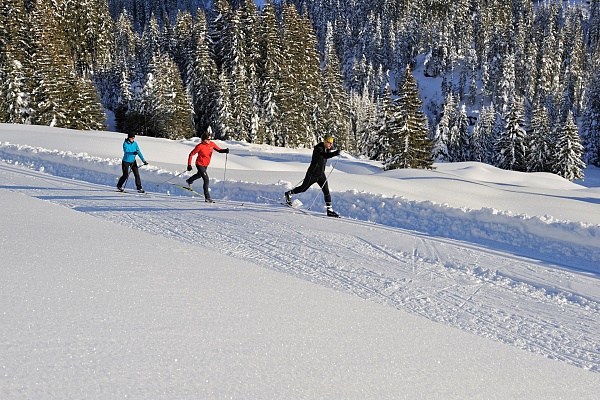 Snowy forests, secretive forest animals, glorious sapphire skies and the brilliant winter sun: cross country skiing on the numerous trails of the Arlberg region in Austria is pure pleasure.

Verwall trail
The ten kilometres of the Verwall trail will leave your mouth agape: it is one of the most beautiful trails in Austria. A variety of alternating ascents and downhill runs lead the trail through the romantic Verwalltal valley, whose charm you might not want to resist. At the end of the trail enjoy the marvellous view of the Verwallsee reservoir or treat yourself to coffee and cake at the Verwall inn.



Additional runs at the Arlberg
The 2.5 kilometres of the St. Chrisoph trail are a high trail of medium difficulty at 1800m with skating track – an ideal point for meeting downhill skiers.

The 22 kilometres of the Stanzertal trail are in close vicinity to the Wellness-Park Pettneu, a gentle trail along the shores of the Rosanna River to Flirsch or St. Anton.

The three kilometres of the Ganderau circular trail are connected to the Stanzertal trail - an easy circular route which is also suitable as a trail for dogs. Have a nice winter day with your four-legged friend!

Beside the classic cross country trails special skating tracks are waiting for you (after heavy snowfalls preparations might take up to one day) – here sports and the experience of nature are in perfect balance.

Cross-country skiing at the Arlberg
St. Anton / Arlberg is known among cross-country skiers. Tyrol has awarded the 40 km long trail net...